Well yes, a custom theme in Telegram is possible for every individual person. Telegram has so many features that I'm discovering day by day. I hadn't thought this type of customization would be available in a top-level messaging app globally.
Yeah, you heard it right in your head. Telegram is now one of the top-level messaging apps worldwide, with more than 500 million users. This huge crowd gets so many features and customizing facilities in Telegram. Most of the users do not even know about the features of Telegram.
One of the features that have been added to the latest update of Telegram is changing the theme of your Telegram. You can add your favorite image as a custom theme in your Telegram Messenger.
While I'm writing this article, I've just tested the way. So I'm here to share this amazing idea with you. Here in this article, I'll show you how you can change themes in Telegram.
Create Your Custom Theme in Telegram
I didn't find any default setting to change the theme in Telegram. But there is a way of doing it. We will be taking the help of a Telegram bot. This bot will help us change our favorite theme that we want to add here in Telegram.
I will be showing you the full process of doing it in the following section. A full step-by-step process to change the theme in Telegram will be given here. So let's get started without talking much.
First of all, open your Telegram app. I am using Telegram on my Android phone. The settings and processes to change the theme in Telegram are the same for Android and iOS. But I am not sure whether it will work on Windows or Mac.
Go to the search option in your Telegram app and search for @themerbot. If you face difficulty finding it, look at this screenshot I'm uploading in the below section.
Click on this bot. And a new window will appear and give you the option to tap on START. Now tap on that option to start the full process.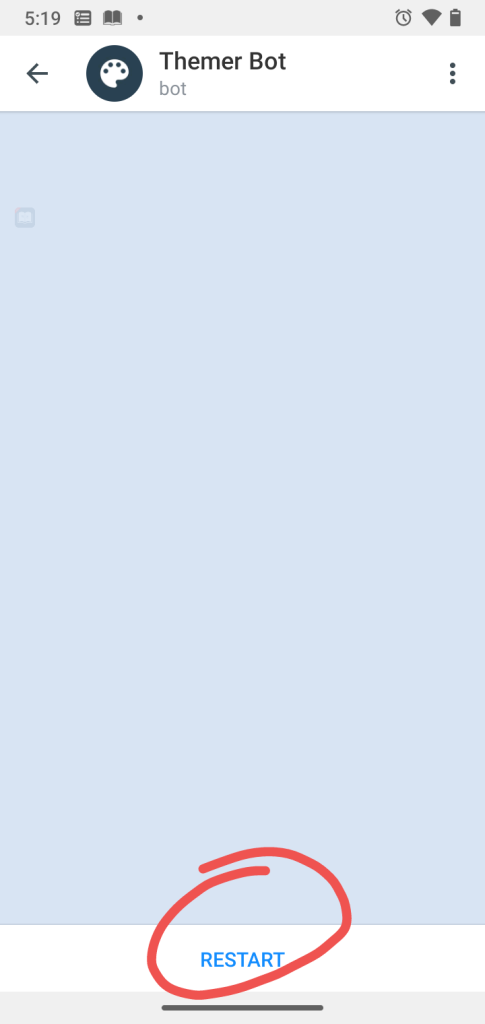 I have already started and created a custom theme once. So it is telling me to restart. Now after clicking on the START option. They will send you a message saying that :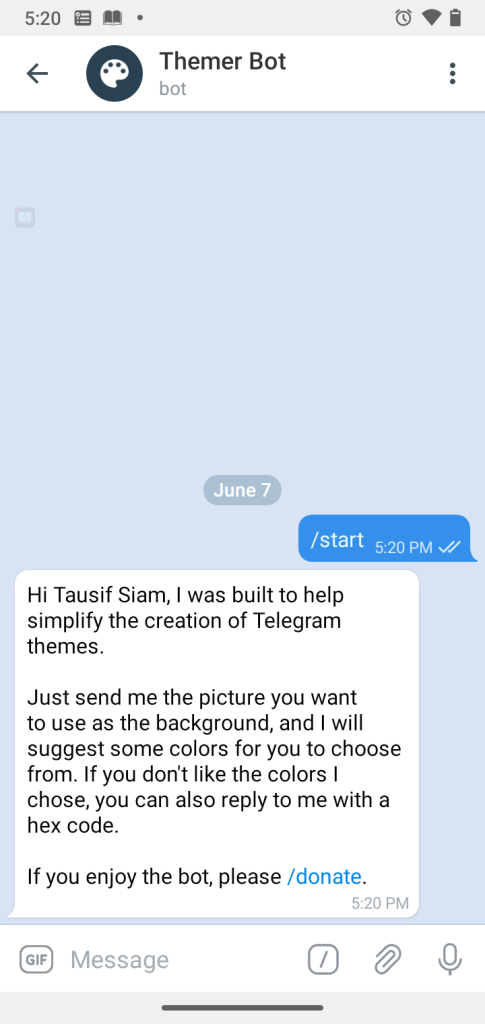 You have to send the picture you want to use as a background image of your custom theme. You can use your picture if you want. Let me choose a picture and continue the process.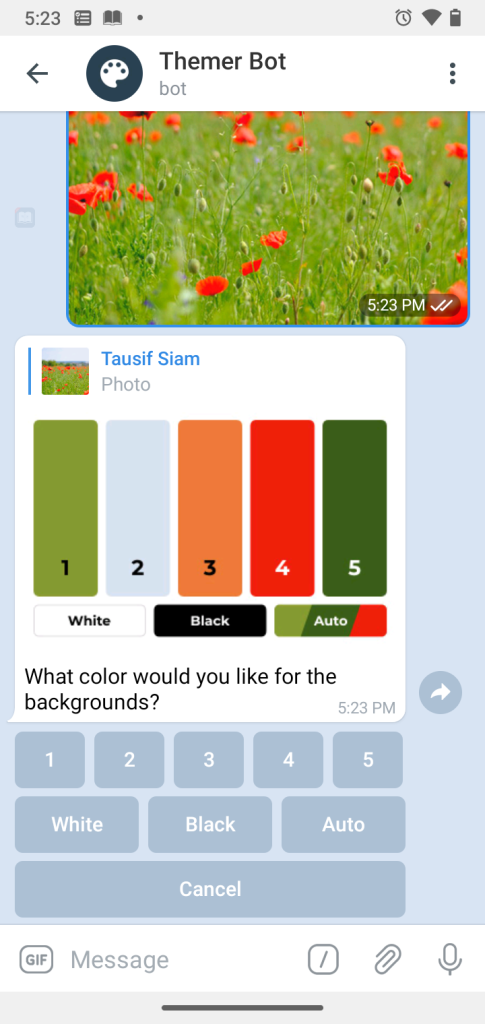 I have sent a picture to use the image as the background in my custom theme. After sending the image, they will give you options to choose from.
They have given you many colors to choose from as a background color. I'm going with the auto option. After clicking on the auto option. Another message will appear saying: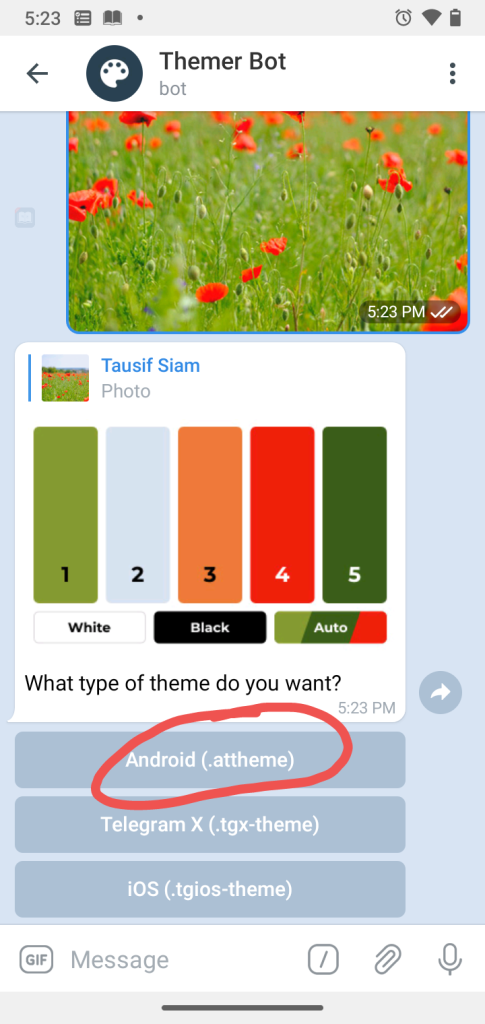 If you are using android, then choose an android option. I'm using android, so I've marked the android option as red. There is an iOS option in the following too. After selecting your OS, there is also a Telegram X version of your custom theme. The theme is ready to use now.
We are almost done. Now your custom theme has been created. To use this custom theme, you have to click on the theme sent to you by the bot after selecting your OS.
Now they will show you a demo. After showing the demo, click on the apply option. Your custom theme is fully ready to use!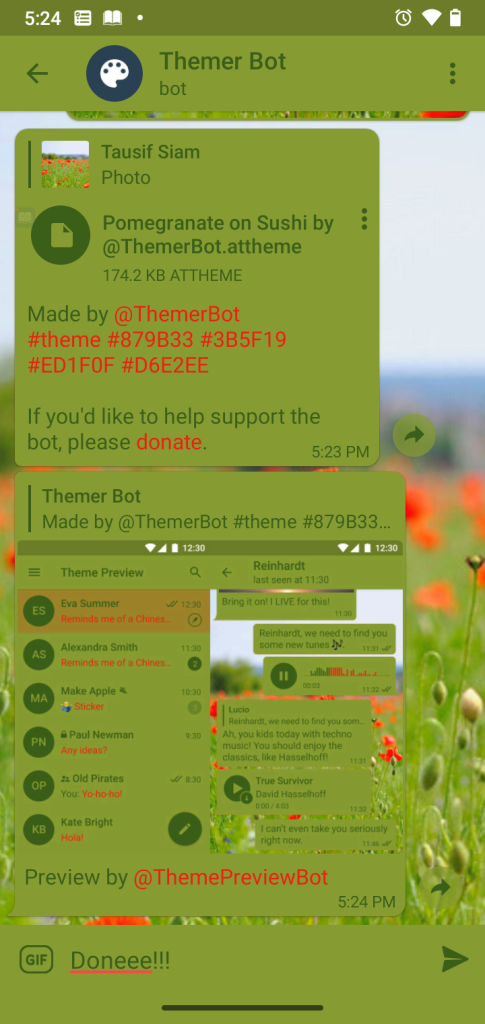 The color combination of my theme Isn't too good. I have just given this to show you the whole process. Isn't it east? I hope it is.
We have reached the end of our article. I hope this step-by-step guide to creating your custom theme in Telegram will help you create your own.
If you still have some questions on this topic, you can let us know by putting a comment in the following. See you next time in another article.