Best 5 Telegram Bots that Will Amaze You? Since Telegram has been popular for many years now, its features and functions have undergone a lot of positive change, same can be said about its bots. Telegram Bots that are available nowadays can be in a world of their own, and there are many many bots that can be called great. so, let's examine some of the best 5 bots in Telegram right now!
Best 5 Telegram Bots That Will Amaze You- 2023
With Telegram being the fastest-growing messenger in the world, one could say it's one of the most advantageous communication channels with many valuable features. Telegram messaging service helps you a lot to send out newsletters or notifications since you can search for accounts via the search bar in the discovery area. But is that the only reason?
A big reason for Telegram to be this popular can actually be because of Telegram bots.
These bots can be seen used in common private use, so with Telegram's number of users, the bot's number has also increased and evolved. in the same way, Businesses have also started using these bots, corporate accounts are starting to use these bots in their own public channels and groups, so, now that we know how great it is, let's put together a list of the top best 5 Telegram Bots we can find in Telegram. (In no particular order).
Telegram Bot-What Are They?
Telegram bot, is a program that offers functions and automatons that Telegram users can integrate in their chats, channels, or groups. They are set up either by using Telegram's own bot builder, their Bot father, or the Telegram API. The latter offers more possibilities for developers.
Traditional Uses for Telegram Bots:
Automated Newsletters
Pushing content from social media or blogs to Telegram
Real-time information system
Pre-qualification / first-level support for customer service
FAQs
Virtual Storefront
File management
Translations
Now that we know what they are, and what they do, let's get to our list of the Best 5 Telegram bots in 2023
Best 5 Effective Telegram Bots Popular in 2023
Telegram bots are very useful things for those who want to make things easy. Here we've got a trendy list of the 5 best telegram bots popular in today's world.
1. Skeddy (@Skeddybot): Conversational Reminder Tool.
The Skeddy Bot is a bot that you can talk to and set reminders that you want to set inside of Telegram chat, you just have to enter a time and a date, and it will let you know with a chat notification when it's time. You'll know when you use it that this Telegram bot should be among the Best 5 Telegram Bots around.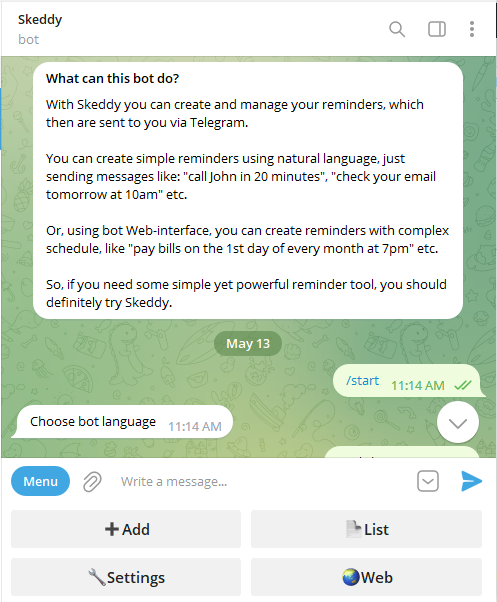 2. Botfather (@botfather): A Bot for Creating Bots
This is an official bot provided by Telegram. Users can create bots with it according to their own specific requirements. which is why the Bot father is the one starting point for most of the bots on the platform. In any case, you definitely can't chase this one out from the Best 5 Telegram bot list.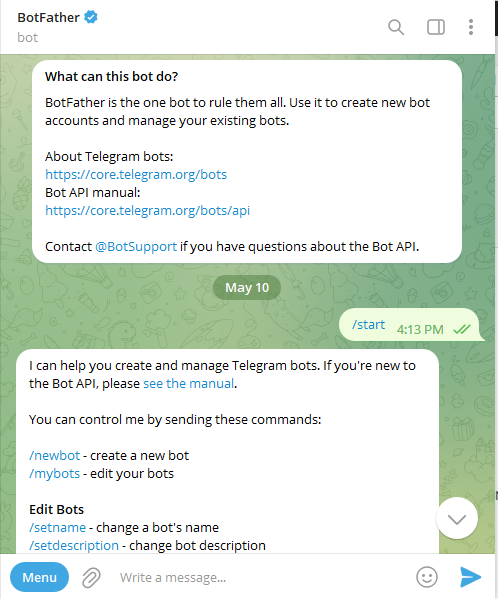 3. IFTTT (@IFTTT): Link your Group to 360 External Services
IFTTT or IfThisThenThat is a platform, that focuses on Connecting different web services and creating automation for its users. Using this bot you can link your group or channel to 360 external services like Facebook, Twitter, and many more. not to mention this bot also lets you set actions that are triggered by conditions.
To give an example, to automatically post Twitter updates of certain accounts in the Telegram group or post messages on Telegram, whenever you will be mentioned on Twitter. If you are a person who is connected to a lot of social media sites, then you know this should be in the Best 5 Telegram bot list.
4. File Converter (@newfileconverterbot): Convert Almost Everything
The File Converter bot can also be called a Swiss army knife since it can convert any file format into another. send a file to the chart, the file converter will recognize the format and give you conversation options via chat buttons. simply choose the format you want it to be converted, and you can download it hassle-free. No questions asked, this one would hands down be in the Best 5 Telegram bot list.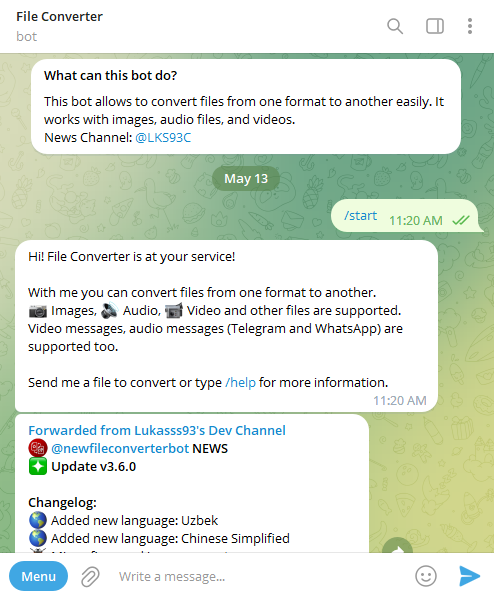 5. Babelgram (@BabelgramBot): Simultaneous Translator
Babelgram is a bot that translates for you. By adding the bot to a group and activating the translation you want, the bot can translate your input text to the target language. all the members can use the bot by simply typing /enabling <language code of input>
<language code of Translation> into the chat. the translation happens simultaneously, so the chat flow can go on naturally. Since globalization is at play you know Babelgram would definitely take its place in the Best 5 Telegram bots.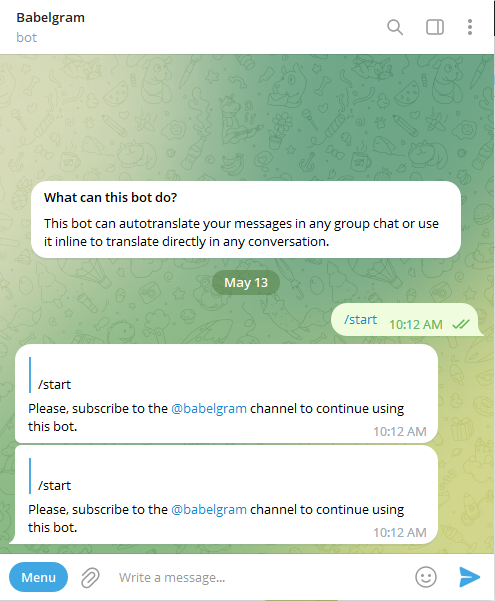 Other Notable Mentions
If you are interested in these bots too, just go ahead and try them out, every bot mentioned here would cater to your needs for an active online life!
Companies using Telegram Bots
By now you know that Telegram is very handy for its newsletters and notifications. but that is just on the surface of what you can see, if you dive deeper, these bots can be used even on a corporate level, just adding these bots to a corporation's public Telegram channels would elevate their channels to another level, for different goals in customer communications, bots can step in and work their magic.
As an example, The Federal Agency for Civic Education in Germany
(Bundeszentrale für politische Bildung/bpb) this bot can give Daily explanations on political terms, news, and offers. that's not all, it is supported by the possibility of asking questions about politics, and the users can even take quizzes on specific topics.
by entering Keywords like "quiz" users can start the quiz and test their knowledge, for every answer, they also receive a link to dive deeper into topics, which makes it easy to increase awareness of relevant topics by federal organizations, which makes those important topics highlighted and more relevant online.
Another example of a simple but useful function for corporate chatbots is the bot of the German News Agency and the famous TV show"Tagesschau"
During Covid 19 pandemic, most Germans always kept an eye on most of the Recent Covid numbers.
As different numbers of infections and incidences in a certain area made different rules and regulations for its residents, everyone was forced to search online to find out what rules applied to their location. The Tagesschau bot Delivered its user's smart solutions as users could get daily status updates Via Telegram. It just needs you to type your area code in and you will be instantly provided with the right information since the chatbot draws the daily Covid-19 numbers from their servers using the Telegram bot API.
Display the Power of Bots
Telegram uses its bots to show you how much potential they have, and these made people create bots that were amazing in their own right as you can see from the Best 5 Telegram list. The uses that you can get from these bots are especially for messaging apps but they are so diverse that not only simple private users but admins and companies benefit from them too.
Looking at how Telegram has been growing and how its chatbots are free to use for everyone, it's only a matter of time before the bots find their way into other messaging services as well. If you want to know more about Telegram bots, you can also check out our article on a Guide to Telegram bot push notifications.
FAQ
Q: What is a Telegram bot?
A: A Telegram bot is a program designed to interact with users on the Telegram messaging platform. Bots can perform a wide range of tasks, such as sending automated messages, answering user queries, providing customer support, and even playing games.
Q: How do I create a Telegram bot?
A: To create a Telegram bot, you will need to use the Telegram Bot API and a programming language such as Python, Node.js, or Java. Telegram provides extensive documentation and resources for developers to create their own bots.
Q: Can anyone create a Telegram bot?
A: Yes, anyone can create a Telegram bot as long as they have the technical skills and knowledge required to develop and deploy one. There are also many pre-built bot frameworks and tools available that make it easier for non-technical users to create their own bots.
Q: Are Telegram bots safe to use?
A: Telegram bots can be safe to use, but it depends on the bot and its purpose. Some bots may ask for personal information or require access to your account, so it's important to only use bots from reputable sources and to be cautious when granting permissions.
Q: Are Telegram bots free to use?
A: Yes, many Telegram bots are free to use. However, some bots may require payment for certain features or services.
Q: Can I customize a Telegram bot?
A: Yes, many Telegram bots can be customized with custom commands, functions, and integrations. Some bots even have APIs that allow developers to create their own extensions and integrations.
Q: Can I use a Telegram bot for my business?
A: Yes, many businesses use Telegram bots to automate workflows, provide customer support, and engage with their customers. Telegram bots can be a powerful tool for businesses looking to improve their customer experience and streamline their operations.
Q: How do I find Telegram bots?
A: You can find Telegram bots by searching for them on the Telegram platform or by using bot directories such as BotList or BotStore. There are also many Telegram channels and groups dedicated to sharing and promoting bots.
Conclusion
If you use Telegram then you know for sure how amazing some of the bots on Telegram are, this article lets you see the Best 5 Telegram bots that can supplement your online life with the boost you need in 2023.