Telegram messenger is like a milestone for the messaging service providers and app developers. Messaging is a very necessary way to connect people. People allow them to connect with other people through messaging. And this full process is done through the messaging apps. At the beginning of civilization, people used many archaic methods to send messages to connect with people.
But through the development of technology, now people are using the smartest technology to connect with people, and the messaging app is one of their smart technologies of them. Here I am gonna write about one of the messaging apps that has recently emerged in the market and becoming very popular with users, the name of this app is Telegram Messenger.
In the present world where people are very frightened with their data, Telegram claims it is the most secure and fast messaging app and that's why the popularity of Telegram has already crossed WhatsApp, Facebook Messenger, etc.
Have you familiar with this messaging app? If not, don't worry, read this article carefully and know all about this app. Again if you are already a Telegram user, this article will be informational for you too to know some unknown things about Telegram. So keep your reading.
All About Telegram Messenger
Doesn't Telegram Sounds Familiar? It seems you have heard the name Telegram before, Yes, Telegram is a primitive method of sending messages, the people of the 19th century were using it to send messages without any physical exchange.
But time has changed, now it's time to introduce the most latest technology. The Russian entrepreneur Pavel Durov introduced a fast messaging app to the world's people name Telegram which is the most secure and fast messaging app of the present time. Telegram is a cloud-based instant messaging app that provides multi-platform service.
Telegram Messenger Release Date
It's 2021, you may little surprised to know that Telegram was initially released in 2013 and I am writing about it now. Initially, Telegram was launched for iOS on 14 August 2013, and the android version of Telegram apps was released in October 2013. Nowadays this messaging app has worldwide over 500 million monthly users, which is a good number.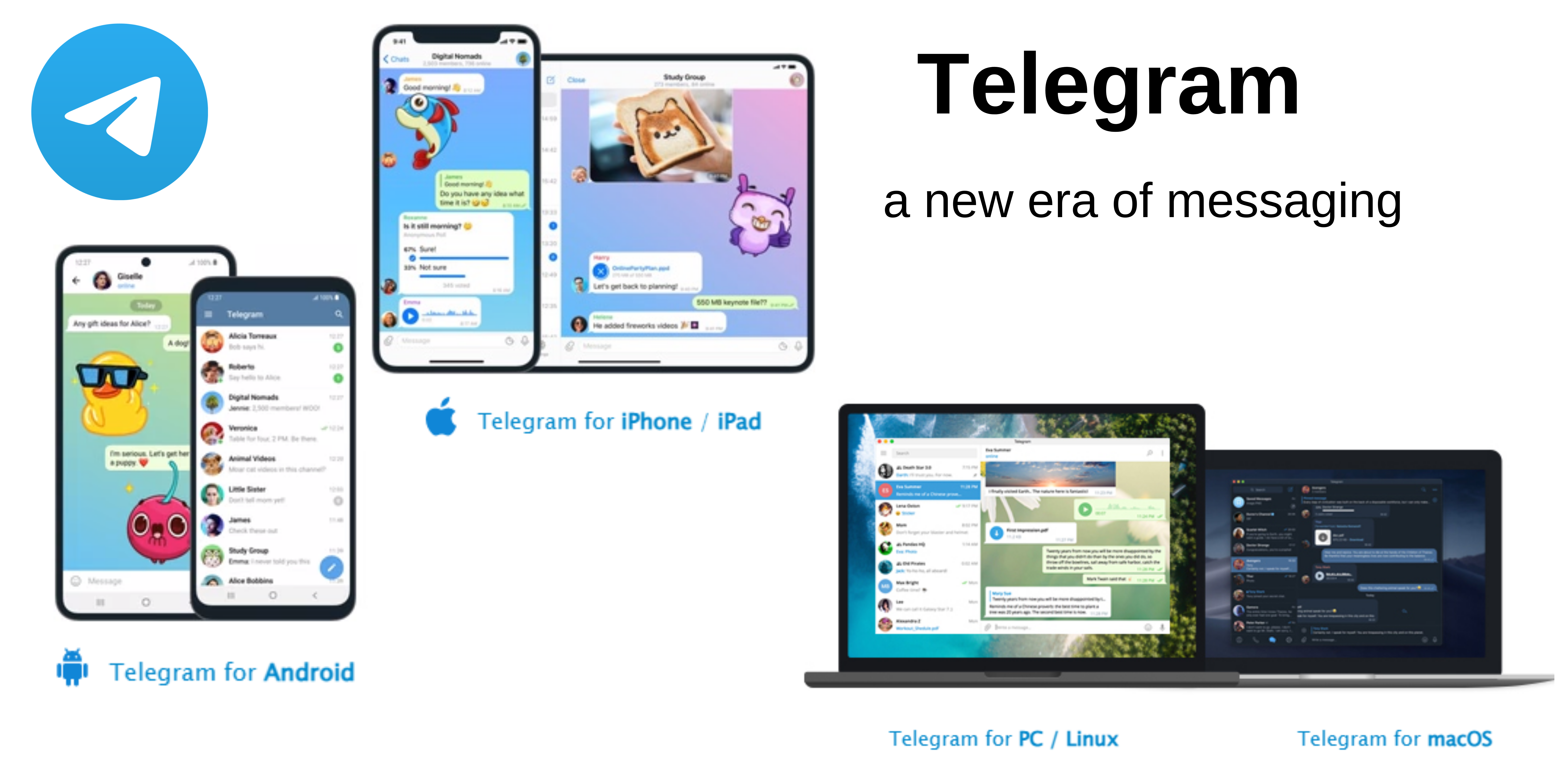 How Does Telegram Work?
This messaging app mostly focused on super-fast messaging and make its user experience simple and friendly. The working process of Telegram is very simple, they just focused on fast messaging as I said before, they are also concerned about user security and presently this app claims that it is the most secure messaging app. It is a multi-platform messaging app that also provides video calling, VoIP, file sharing, and several other features.
Using Process Of Telegram On iOS And Android
The Using process of Telegram is very simple, it's no different from any other messaging app. You just need to download the .exe file from the internet and just install it and start using it. Although I am going to provide the full instruction to use this app on your iOS and Android device.
Use Telegram on iOS: Telegram is a free App and users don't have to pay for it. To use this app on your device, you need to install it on your iOS device from the App Store. So go to the App Store and search Telegram on the search box. Then click on the get button, and the .exe file will automatically download on your device. After downloading the .exe file just install it. After completing the installation you need to sign in using your phone number. That's it after signing in you will all the people who are on your phone contact.
Use Telegram on Android: Using Telegram on Android is quite easier, just download the App from the google play store and install it. The process after installing is the same as for the iOS device.
What Makes Telegram Unique From Other Messaging Apps
Currently, the Telegram app has more than 500 million active users across the world. And the number of new users increase by 25% in the past year. According to the last three years' record, this messaging app added more than 300 million new users to its base. But what are the main things behind the popularity of this messaging app? Let's talk about it, what makes telegram unique from other messaging apps.
Simple To Use
You already know how easy the using process of Telegram is. The UI (User Interface) and UX (User Experience) are so wonderful. It's quite easy to install and sign in. And probably it could be one of the most effective things that make Telegram more popular.
It Allows Users To Keep their Privacy
In this age of technology, data is a very confidential thing. Almost every people wants to keep their data secure. Telegram claims that it's quite secure, and it has some magnificent features such as the messages in telegram being heavily encrypted and can be self-destructed.
Users Can Use The Same Account On Multiple Devices
The feature of Telegram messenger personally I love is multiple device access. Telegram allows you to use your account from multiple devices, such as you can use your Telegram account on your computer as well as on your smartphone.
Fast Than Any Other Messaging Apps
Till now it is the fastest messaging app in the world. There are no messaging apps in the world that can beat Telegram now. Not only that, it can deliver messages with a vulnerable internet connection; that is awesome.
Telegram Has No Limits On Your Data
You can upload numerous media files on Telegram, it has no limits. Also, Telegram has no limits on your chat data. Undoubtedly it is a great service of Telegram, which makes it unique.
Telegram Has An Open API And Source Code
It is really good news for the Developers that Telegram messenger has the publicly available application programming interface or API, it provides programmatic access to a proprietary software application.
It Keeps Your Messages Secure
When the question is about security, I must say it is the most secure messaging app presently. It keeps all your messages safe from hacker attacks. Also has a special feature known as Telegram Secret Chats 
It Gives Better Opportunity To Make Social Community
Another uniqueness of Telegram messenger is, that it can hold up to 200,000 members in a social group, which is a large number. Straightly, it allows every user to make their community with a total of 200,000 members.
It Allows To Customize The Messengers
Telegram messenger also allows users to customize their messengers, such as the chat color theme, font size, and many more things that make this app unique from others.
Last Words
The popularity of Telegram messenger increasing speedily, my be it will be the feature of the world's people. But besides the popularity, there are a lot of controversies arose, but Telegram simply avoided them and still provides its service. So If you are a Telegram user, don't forget to share your user experience in the below comment box.