The Telegram sticker bot is the main context of this article. Stickers are a great way to express yourself in today's social media world. in this article, you will learn about Telegram Stickers Static Telegram stickers are in their league as Telegram allows you to make your stickers over conversations in cool graphics, trashy memes, or movie quotes.
Telegram Sticker Bot
The best thing about making Telegram stickers is that you don't need a developer account or have to pass a long and hassling review. All you need are just images, you have to send these images to the Telegram Sticker bot.
In addition to regular stickers, Telegram also provides the option to design and use animated and video stickers.
As that is the case and Telegram has given you such an easy way, why don't you let out all of the inside jokes you and your friends have accumulated? so let's follow this guide explaining more about Telegram sticker bots.
Designing your Stickers:
You may think that you have to be a graphics designer to create a Telegram sticker, but it's not that complicated, if you are a graphics designer then that's great too. still, even if you're not one, you could always try your hand at it since it's very easy.
if you know about Telegram stickers, then you know for sure that some of the best Telegram stickers are hilarious meme-like creations, thrown together out of quotes and photos. so then you should be able to guess that even basic design skills should be sufficient for those.
Now then Let's begin:
The Stickers you create should follow unified Design requirements, follow these easy instructions to start making your Telegram Stickers.
Telegram stickers have to be in PNG images with their background being transparent and they should be 512 x 512 pixels.
Each sticker should be a separate Image file. Designing and uploading them is easier on your desktop than doing them on your mobile, so you might want to use, Telegrams for Mac, windows, or Web versions.
You can have an icon for your sticker pack if you want, you just need a 100 x100 pixels PNG image with a transparent layer and you will be set.
Note that, using things like Movie quotes to create stickers is a copyright infringement. That is how memes are normally made, but unlike a meme, Telegram will take down your sticker pack if the copyright owner complains. That said, there seems to be no copyright check when your upload your designs.
On average, Telegram sticker packs include somewhere between 10 to 20 stickers, but it's not like you're limited. You can upload as many stickers as you want, not only that you can still keep adding to your Sticker pack even after you publish.
so to go about making them, feel free to try out any app or software that can work like Adobe software or Photoshop app, you don't have to purchase a subscription to create Telegram stickers.
Finding The Telegram Sticker Bot
Once you're done making your Telegram stickers it's time to roll! Find the Telegram sticker bot  You can go ahead and follow this link or you can open Telegram and type "stickers" into the search field. Then click on the first @stickers option.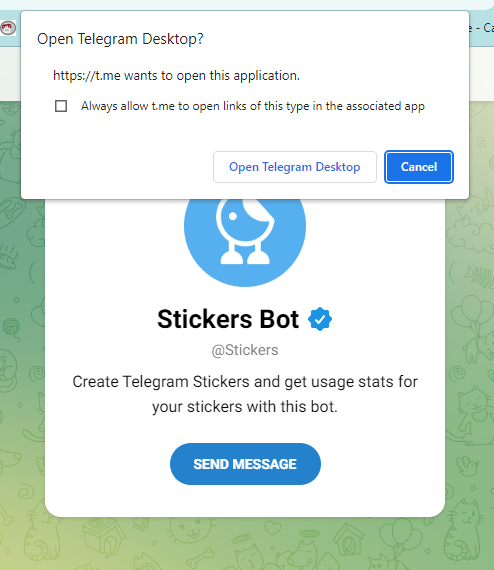 After adding a Telegram sticker bot to your Telegram there will a homepage appear on your Telegram window.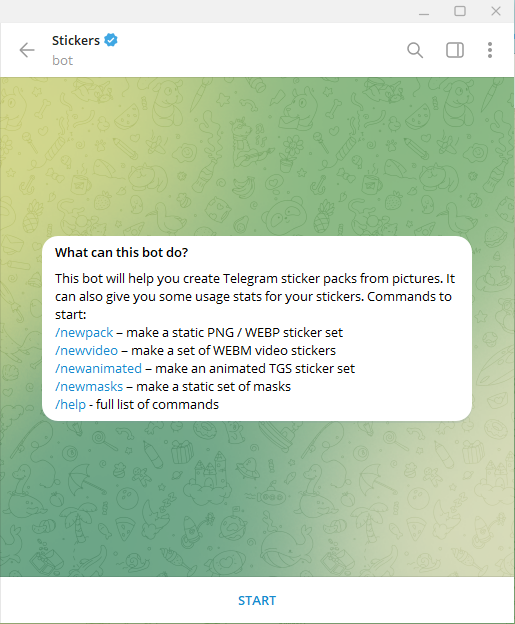 Now you just need to interact with the bot and tell it what type of sticker you want to make. And if you found this sticker bot useful; then you can also see some other bots too, which bots do other works and can help you with different works. check the best 5 Telegram bots that will amaze you