Telegram this group can't be displayed is a common issue. There are many reasons, a group can't be displayed to the mass public or non-member Telegram users. Telegram nowadays is one of the best reliable messaging services in the world, with this reliability, Telegram tried to develop a system more comfortable for its user but man has limitations ad so has Telegram.
Sometimes, some content gets filtered, and sometimes some private turn their age restriction privacy settings: On so, under-age users can't see the groups.
Why In Telegram This Group Can't Be Displayed Occurs?
Well, Telegram is not one of the most popular apps in this world, and though it's a messaging app; Telegram users use this app for long varsity of uses. There are various features on Telegram that are enabled the user to speak freely here without hurting each other. Users can make their channel and can also build community through the channel or by making groups that can be a supergroup in the future.
There is every type of Person on Telegram and so there are many types of content with many different types of approaches. So, Telegram has developed many privacy options that can help users not get in trouble by seeing what they don't want to see.
Reasons For " This Group Can't Be Displayed " Issue On Telegram
At the beginning of this article, I told you that there can be many reasons why a group can not be shown to mass users or the public. That restriction can come from Telegram, from your privacy settings, and can come from the Telegram group itself. So, here I'm giving you the reasons for which the " This Group Can't Be Displayed " dialogue occurs.
A group on Telegram can set age limit restrictions for their group.
Telegram has a Sensitive content-filtering navigation system that is enabled and Disabled.
Telegram can restrict a group from being shown publicly to mass users
A group can be on a halt from display for a certain period because of different users' reporting to Telegram.
Sometimes in private groups; users need membership approval from the owner of the group to see the conversations.
So, these can be the reason why Telegram This group can't be displayed issue occur on Telegram.
How To Fix Telegram This Group Can't Be Displayed Issue?
In the upper part of this article, you have learned about how and why the  Telegram This Group Can't Be Displayed issue occurs. Now it's time to know how you can probably solve this issue from your side by taking some steps from your Telegram users panel. So, here read the procedures carefully and that can solve your " This group Can't Be Displayed " on Telegram issue.
Use VPN If You Are From A Country That Blocked Telegram:

   Though Telegram is one of the most popular apps on the earth, because of its privacy policy and zero tolerance to government surveillance have made the app quite frightening and disturbing to certain countries. But, there are also users on Telegram who belongs to those countries and uses virtual number and VPNs to use Telegram and because of this situation, some features of Telegram may not work properly in those countries.
Bahrain
Belarus
Brazil
China
Cuba
Germany
Hong Kong
India
Indonesia
Iran
Pakistan
Russia
Thailand
If you are a user from one of these countries then try to use a paid VPN that will make your IP stable and you can use Telegram properly.
Enable Sensitive Content:  You are account may not show vulgar, sensitive, disturbing, violent, or sexual content cause Telegram may not have fixed or found your age, and it doesn't have any surveillance over its users so it can't tell what's your age.  So, you will need to re-sure Telegram that you are above 18 years old. To do that follow a simple procedure.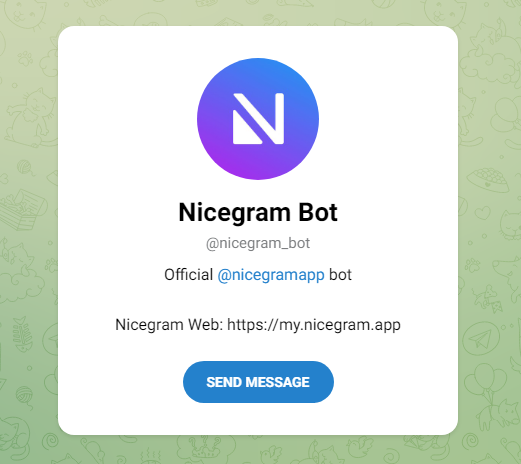 Step-1
First of all, go to this page
https://t.me/nicegram_bot
and add
Nicegram bot
to your Telegram chat. And click "
Start
" and you will be able to go to the next step.
Step-2 Now you will see this page and there are two-Cross marks on the two selective options. Now you will need to " click " on the two cross marks.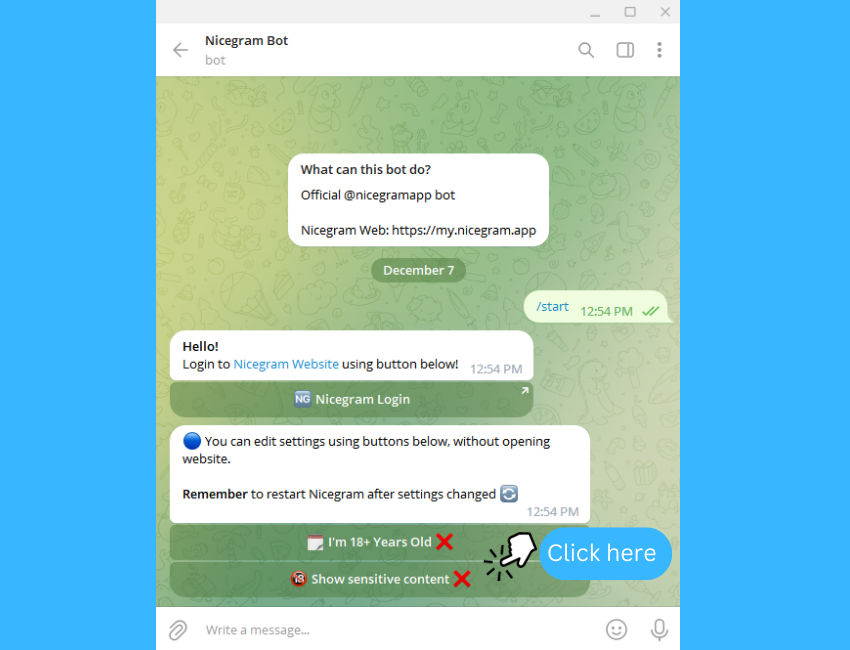 Step-3 Now you will see there are two-check marks on those dialogue boxes. Now you will need to restart your telegram app or a desktop application.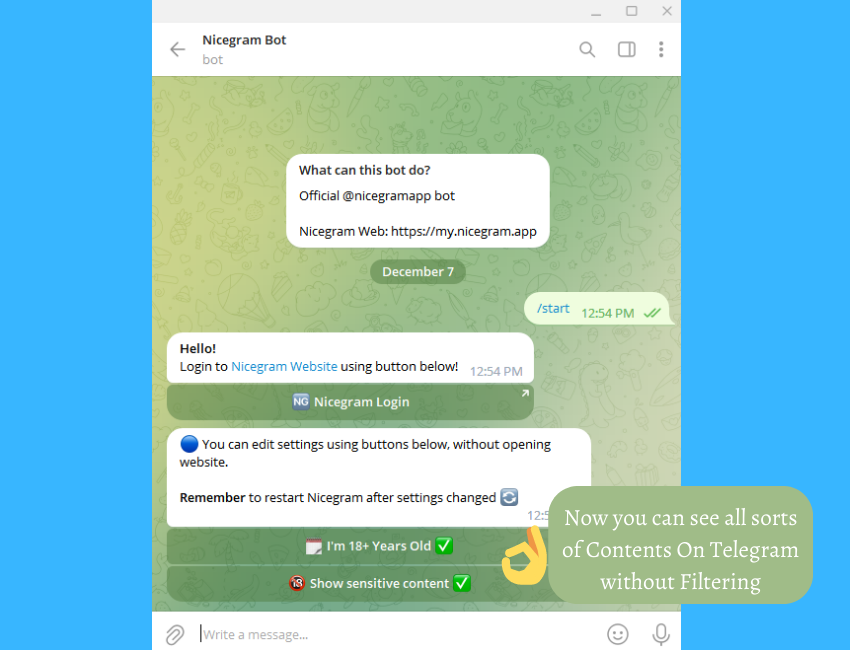 Following these simple steps, you will be able to see the filtered content without any restrictions and can solve the issue, Telegram this group can't be displayed issue on Telegram.
Disable Content Filtering:

  There is a privacy setting feature in Telegram toggling: On the feature will let you see any type of message, group, channel, or content without filtering. And by default, Telegram doesn't show its users any violent, vulgar, sensitive, or sexual content. So, the feature is developed for disabling the content filter.  To turn: On the filter disabling follow some simple steps.
First Go To your Telegram Settings > Privacy & Security > Scroll down to Sensitive Content
Now you will see the Disable filtering; Toggle: On the disable filtering feature and re-start your Telegram app.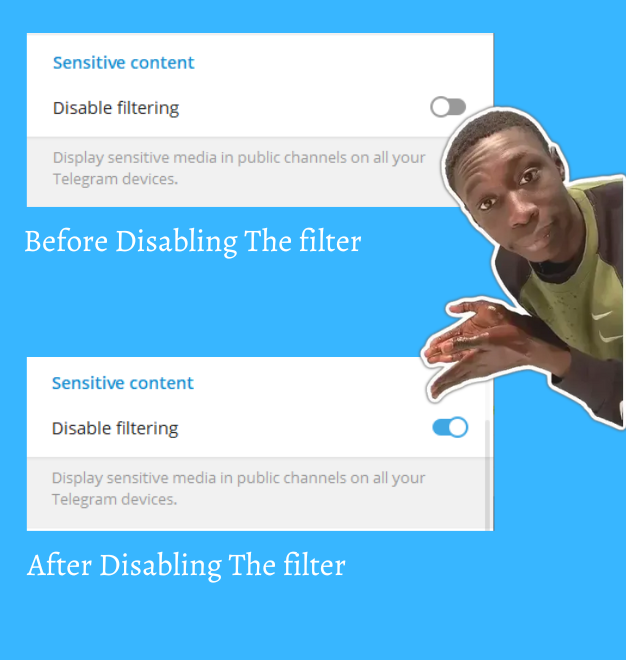 Change Device: If you are using Telegram web, then log out from your web version and log in to your app version or desktop application. This may help you to see any groups or contents without filtering if you have turned: On the content, filter disabling the feature.
Wait For The Group Admins' Approval:  If you are not being able to see a group's conversation that may be because of the privacy of the group. So, if you want to see the contents, first enable sensitive content, secondly disable sensitive content filtering, and the last step to see if the group has any age restrictions and does that group needs any approval to see their chats.
These are the steps that you can take if you are not being able to see any sensitive content on your Telegram account. And following these procedures, you can solve the Telegram This Group Can't Be Displayed issue.