Log in Telegram web step-by-step by reading through this article. Telegram, which initially appeared as a messaging app, most of us know about this app. This messaging app added a new dimension to the messaging world. It has won millions of people's hearts through its awesome features.
I have been using this messaging app since 2017, and I am highly satisfied with it. Suppose you ask me what is missing in Telegram as a messaging app? Surely, I will answer nothing. It has all the features that a messaging app should have.
Here I am going to write about one of the features of Telegram that is quite surprising; it is the web log-in features. Just think that you need to log in to your Telegram account urgently, but you don't have your mobile phone or desktop; what should you do now?
Telegram gives you the features to log in to your account from the website. Have you known the process of How to log in Telegram web version? If not, keep reading this article and learn about it.
What is Telegram Online
Telegram has two log-in applications: the android app and the desktop app. You have to log in to your Telegram account through the login application.
Still, you can log in to your Telegram account without any log-in application through Telegram's official website, and it is called Telegram online. Telegram introduced its web version in October 2014.
How To Log In Telegram Web Version?
The online login feature of Telegram is used for emergency purposes. Think that sometimes you go out from your home and have just your phone, but you need to write a large amount of Text in Telegram for which desktop is required, you log in to your telegram account through any desktop near you.
It is quite easy to enter telegram online, though I will provide you the complete instruction below, have a look.
Open an Internet browser, search for /web.telegram.org/#/login, or Click Here.
After entering the website, a login page will appear before you, select your country, provide your phone number, and click on the Next button.
A verification code will send to your number, enter the verification code and enter your account.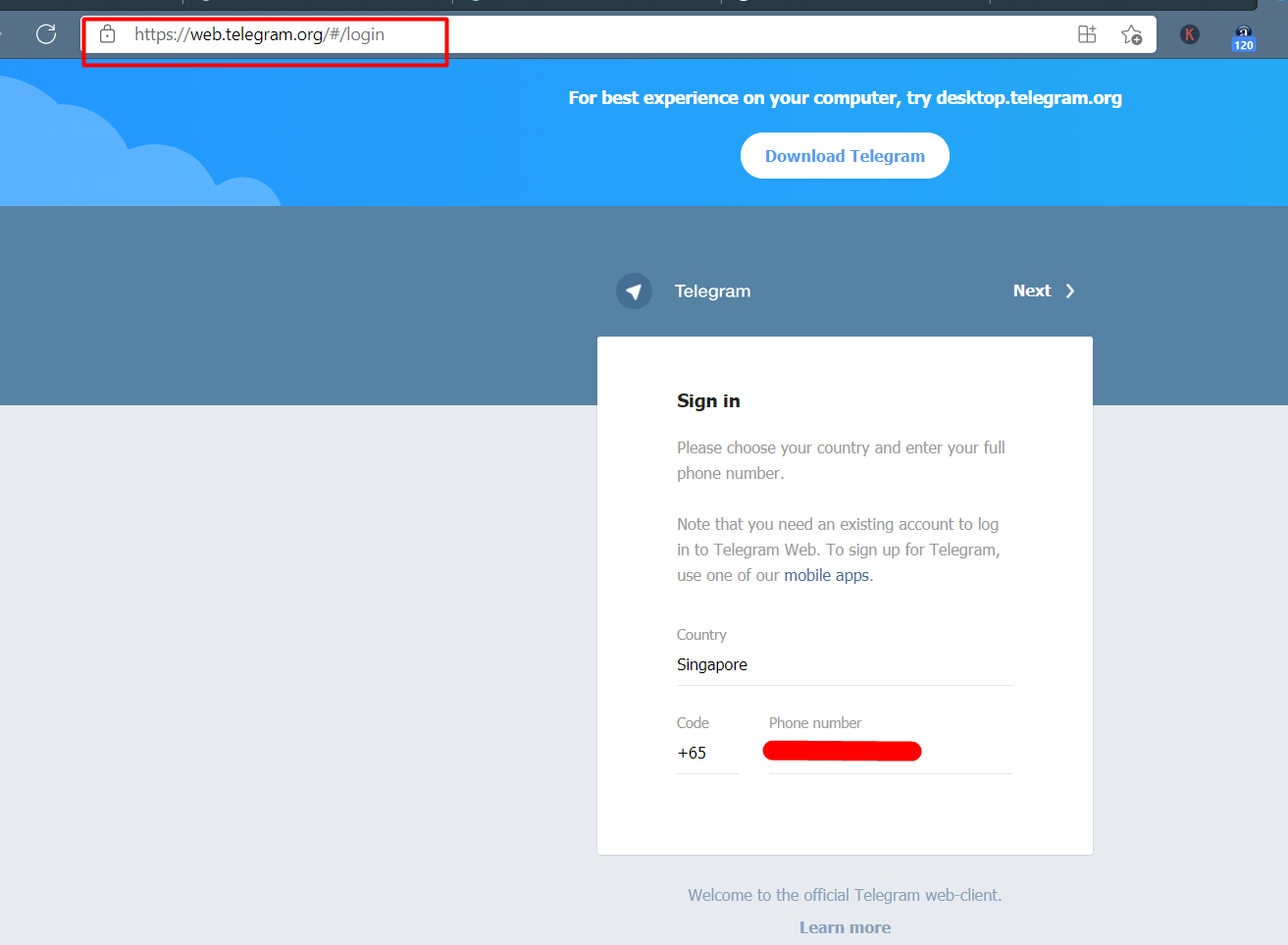 Note: Telegram is being updated and providing us high secure service. Probably the phone number verification feature for the online version has stopped. I mean, telegram will not send the verification code to your phone number anymore; it will send the code to the desktop or android app where your account is logged in.
So, these are the steps to log in Telegram web version without any hustle.
Telegram App vs Telegram Online; Which One Is Secure?
After knowing How to Log in Telegram Web version; you can also question its security, I think no messaging app can beat Telegram. Telegram has considered one of the most secure messaging apps in the present world. This messaging app started its journey in 2013, but no security issue was still raised of Telegram.
But when the question comes to comparing Telegram apps vs Telegram online, which should I prefer? It isn't easy to select one as more secure than another.
But I would like to remark the Telegram App is as secure as Telegram online. The App is quite a handy thing, and Telegram brings updates for the app. Further, the online login feature is just for emergencies, so don't expect high-level security here. You can read another article and know more about Telegrams security and privacy options